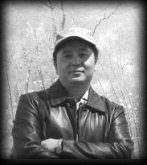 Painting landscapes on canvas is a creative process which allows me, first of all, to express my passionate love for nature; secondly, to reproduce my precise observation of its seasonal changes; and thirdly, to search for harmony between human beings and the natural world.
I paint solid rocks, vast prairie, tranquil lakes, gurgling streams, and so on. To me nature not only possesses a mesmerizing power, but also restlessly changes itself and everything.
In my composition, I depict nature in action and movement. By combining dot, line, and space carefully with black, white, and grey shades, I want to compose the organic shape and status of nature, so that my paintings can give the audience a profound visual experience.
When applying colour, I reinforce the absorbing capacity of the canvas by emphasizing my personal emotions. I contrast warm colour with cold and cool colour, and heavy brushes with light touches; sometimes, I pay meticulous attentions to the details. Overall, I hope to achieve a modern Eastern sensitivity on canvas, which includes a subjectively and decoratively created artistic momentum of landscape paintings.