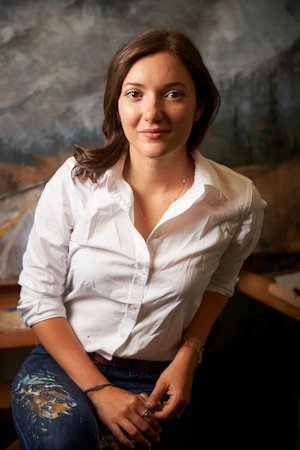 Olga is a representational painter who captures the urban and natural landscape with a unique attention to the magic of each place. She combines her artistic passion with her love of travel to create scenery that captures the mind and the heart.
In Slavic folklore, the Firebird is a magical creature that symbolizes the object of a great quest, and whose attainment is secondary to the journey required to capture it.
It's a story that has its roots in the land where Olga grew up; the Ukrainian city of Sevastopol on the Black Sea. A vacation spot for many people of the former Soviet Union, its stunning scenery - so like the Mediterranean coasts of Greece and Italy - awoke in her a love of the natural world.
"Being outdoors has always been a huge part of my life, from trips to the beach, to hiking and visiting the city's waterfront parks and boulevards. It's the main reason why I love to paint scenery." This love of painting has a very early provenance. "Ever since I can remember, being an artist was my only goal."
At the age of 13, Olga's family moved to Vancouver; immigrating to Canada would prove to be one of the most important experiences of her life. "It helped shape my character and my art. Being thrown into such a multicultural country opened so many possibilities for travel and learning. Most of all, it meant that I could make my dream of being an artist a reality. This would have been a difficult task if I had remained in the Ukraine with all its economic and political instability."
A new life in Canada presented its own difficulties, however; obstacles to overcome such as a new language, educational and societal differences. This prepared her well, for the life of an artist in pursuit of the firebird is a life of struggle in the face of adversity.
Intelligent and adaptable, she worked towards her Bachelor of Arts in Visual Art and Art History at the University of British Columbia, absorbing as many techniques as she could, from sculpture to oils to photography. All of which informed her true passion – painting – coalescing around two distinct themes; urban streetscapes and wilderness. The former was awakened when she returned to Europe in the second year of her degree.
"Being back in Europe as an adult - visiting Rome, Florence, Venice, Lucerne, Zurich, Paris, and London - was inspiring. Immersed in cultures with such a long tradition and appreciation of art, this mingled with my memories of growing up in the Ukraine. I guess you could say this was the birth of my desire to capture the spirit of different places."
Back in Canada, this desire manifested itself in a very different way. Rather than Europe's densely populated ancient cities, it was the natural beauty of the West Coast that called to her.
"I was struck by its rugged wilderness, such a contrast to the intricately designed, handcrafted environment of Europe's cities. Both interest me equally, but possess very different characteristics, which I try to portray in my paintings. This duality of inspiration was mirrored in the duality of her approach. Where most artists prefer to work in a studio or personal space away from others, one of the defining moments of Olga's career was stepping into the world of live painting and audiences." It would prove to be an auspicious beginning. In her very first competition – 2012's Art Battle, a 20-minute live speed-painting competition – she won. Olga then went on to compete in the British Columbia Finals, placing 4th. When she went the following year, she won.
This led to her competing in the National Finals in Toronto later in 2013. "I didn't win in Toronto, but it was a fantastic experience, and so humbling to be surrounded by artists of such high calibre."
Her live painting success continued in 2013 at the Golden Brush Art Competition. A unique tournament where teams of two artists paint on the same canvas, she and her partner, Bill Higginson, won their heat and went on to win the final and the coveted Golden Brush. The following year, they won a tournament comprised of all previous Golden Brush winners – she became the champion of champions.
"My live art experience has added a lot of great qualities to my art; speed, confidence, and energy. It's also launched me into a great community of artists, from whom I've learned and drawn inspiration from." As with any journey in pursuit of the firebird, unexpected detours become new thoroughfares. Olga's live painting has become a business – Impressions – that captures weddings, events and fundraisers on canvas in real time as the function unfolds. Together with Bill Higginson, they have developed a truly unique endeavour that solves the problem so many artists face; earning money from doing what they love.
As Olga travels the world with her art, she embodies the folkloric quest of her homeland – not capturing the firebird, but revelling in the journey in search of it.
"My art is all about capturing a place – not the exact look of it, but how it feels to be there. When I paint, I feel like I am there, and that is what I want to translate to the viewer."
Selected Exhibitions

   
2018
Pacific Rim, Solo Exhibition
The Space, an Art Gallery, Vancouver

2016
2016 Vancouver International Auto Show Gala, live artist
Vancouver Convention Center

International Day of the Dead Exhibition & Tour, in collaboration with The Consulate General of Mexico in Vancouver
Granville Island, Vancouver BC

2015
The Art Affair, Black & White Charity Art Auction
The Vancouver Club

Juror's Choice Exhibition
Ferry Building Gallery, West Vancouver

Awards

   
2019
International Artist Magazine Challenge No. 111, Finalist
2014
Champions League, Golden Brush, First Place
2013
Season two finale, Golden Brush, First place
Art Battle 61 Vancouver Championship Winner
2012
Art Battle, May, First place