Artist by Image



Artist by Name

New Arrivals

Prices are in Canadian dollars.

Click images to enlarge


Darren Petersen

Glass Works






New


"Stream Bed"
Glass, 12"H x 50"W x 14.5"D


Sold






"Bow River Brown"
Glass, 13.5"H x 11.5"
$1,295

BVS






"Shore Bird Decoys"
Glass,
$475 to $975 each

BVS






"Murrini Vessels"
Glass,
$150 to $350 each

BVS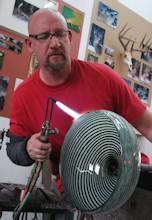 Darren Petersen
Darren Petersen has been creating blown glass for over 20 years. He received a BFA in glass from the Alberta College of Art & Design and is a regular Series instructor at Red Deer College. He has exhibited work across North America as well as in Germany and South Korea. Darren's work is well represented in the collection of the Alberta Foundation for the Arts and in private collections worldwide. Darren is a passionate naturalist, wildlife photographer, fly-fisher, and bow-hunter. These outdoor activities directly inform his studio practice as creative inspiration.
"As a glassmaker I like making objects that have a purpose, objects that people interact with daily or on special occasions that become an enriching part of their personal lives. Items that they entrust with food and flowers or raise to their lips and drink from. As an artist I am most interested in creating objects inspired by the beauty in nature. I enjoy the profound simplicity of making things with my hands utilizing very basic tools and skills developed in the old fashioned way."
Prices are subject to change without notice.
Stephen Lowe Art Gallery reserves the right to quote the final price of any listed item.
© Stephen Lowe Art Gallery, all rights reserved.
Artist Info






Location Codes:

BVS - Downtown Bow Valley Square 3
(+15 level)
BVC - Downtown Bow Valley Club
(+30 level)
PGC - Pinebrook Golf and
Country Club