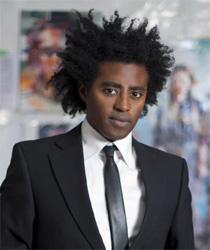 Yared Nigussu grew up in Addis Ababa, and he graduated in 2005 from the Addis Ababa University of Fine Arts and Design. He earned a degree in Art and Education, with a major in painting. Awarded a scholarship to France where he studied art and studied French, Yared's career was established when he began exhibiting his work in France and Austria.
Early in his artistic life, Yared Nigussu was deeply influenced by the life and works of Italian painter, Amedeo Modigliani, who wrote, "when I know your soul, I will paint your eyes." Today, almost 100 years after Modigliani's death, the young, 34-year-old Yared garners much of his inspiration from faces. Yared states that, "eyes can hide a lot of stories and that is an infinite source of inspiration for me."
Inspired by the beauty of human shapes and colours and focused on the human gaze, Yared is a keen observer and fascinated by the stories behind the faces. His most symbolic portrait is that of an old friend, a former child soldier that Yared created as an homage after the friend's tearful confession. The painting depicts the deep sadness and desperate look of a child whose childhood had been stolen.
Painting is Yared's natural language. Intuitive and powerful, his brush strokes communicate a symbolic vocabulary that visually translates a depth of emotion. Known for his painterly large-scale portraits and urban landscapes, Yared's work has a palpable energy that is optimistic and thoughtful, much like Yared himself.
Fusing undisguised brushstrokes with mixed media, rendered in a bright, opulent palette, Yared's paintings are provocative and convey a narrative much deeper than the mere appearance of the subject. Paint drippings and densely laden dashes of vivid colour, juxtaposed with contrasting imagery and hues, create a deeply sensorial experience for the viewer. Captivated by the layers in his portraits, one can almost hear the soft breath of the subject.
After moving to Canada in 2009, Yared was inspired by the energy, light and urban perspective in his new home of Vancouver. He has won Canada's National Art Battle live competition for three years in a row in Toronto and Vancouver in 2012, 2013 and 2014. He is also the recipient of the 2015 Sage Award of Social Acceptance and Great Excellence, and the recipient of the 2015 Bikila Professional Excellence Award.
Yared Nigussu's work is collected locally and internationally. Yared is also a frequent contributor to Canadian charities.
Portraits of Strangers
The idea of painting the portrait of strangers first started when I arrived in France where I felt at the begining a stranger. Then this idea of painting strangers started boiling... It was a very interesting feeling to see and observe people whom I am not familier with. Approching without any gegment and try to learn something from their portrait, understanding the different cultures, languages, ethics, morals and values etc. This suddenly changes the characteristics of my art and I start to think about how I can bring these portraits of strangers into my life that I consider now one of my core subject of my artistic expression.
This idea gets broader. When I paint these portraits, I think not only a portrait of human faces but also the general idea of the strange things around us as well. I try to deal with many endless questions that follow one another. How do I evaluate people in general? People we know and people we don't know and our relationship to one another, the concept of our interdependency while living together, the importance of human to human.
While processing of portrait's of someone, I realized how our mind is conditioned to not see the details, even the simple plant that I have is very fascinating to discover... the shape, texture and colors… and my understanding of the plant and the plant itself before and after is very interesting.
The same idea is applied to faces of strangers that I see in everyday life, different ways that they are projected to us. I am not dealing with who they are but what they look like, from an artistic point of view. For example, Colors, shape, Form, textures is the most I am concerned with. What emotions a portrait of a strangers can pass to me.