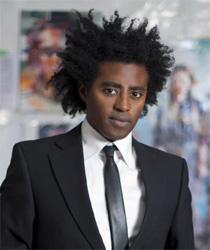 Yared Nigussu grew up in Addis Ababa, and he graduated in 2005 from the Addis Ababa University of Fine Arts and Design. He earned a degree in Art and Education, with a major in painting. Awarded a scholarship, Yared moved to France where he furthered his studies in art and French. Yared's career was established when he began exhibiting his work in France and Austria.
Painting is Yared's natural language. Intuitive and powerful, his brush strokes communicate a symbolic vocabulary that visually translates a depth of emotion. Known for his painterly large-scale urban landscapes, animals and figurative portraits, Yared's work has a palpable energy that is optimistic and thoughtful, much like Yared himself.
Fusing undisguised brushstrokes with mixed media, rendered in a bright, opulent palette, Yared's paintings are provocative and convey a narrative much deeper than the mere appearance of the subject. Paint drippings and densely laden dashes of vivid colour, juxtaposed with contrasting imagery and hues, create a deeply sensorial experience for the viewer.
Moving to Canada in 2009, Yared was inspired by the energy, light and urban perspective in his new home of Vancouver. He has won Canada's National Art Battle live competition for three years in a row in Toronto, and Vancouver in 2012, 2013 and 2014. He is also the recipient of the 2015 Sage Award of Social Acceptance and Great Excellence, and the recipient of the 2015 Bikila Professional Excellence Award.
Yared Nigussu's work is collected internationally.