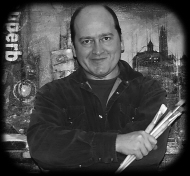 Nemo was born in 1968 in Chisinau, the capital city of Moldova; an Eastern European nation known for its rich artistic heritage. His childhood was spent in a village with his grandfather. Nemo, as he is known to his friends, remembers being fascinated by the carvings and other artwork that surrounded him. In particular he loved paintings, and from an early age he was determined to become an artist.
Nemo attended the Moscow Peoples University of Art, pursuing a Fine Arts degree. After 3 years of study, he found the art institutions of his native Moldova only presented a stale and uninteresting prospect. Rather than pursuing a formal art education he chose instead to travel and experiment with new and innovative art techniques. His talent quickly flourished and soon he was organizing large outdoor art fairs to show his work and that of other young artists.
His first exhibition was held in 1987 in Moldova, where he received glowing reviews from art critics and viewers alike. Then he participated in the Moscow International Exhibition where his painting "Cherry in the Goblet" was awarded the best of show.
Nemo began intense study of the style and techniques of the work of Ivan Shishkin, Ivan Aivazovsky, Pierre-August Renoir, Claude Monet, Salvador Dali and other artists. Combining classical painting techniques with more contemporary techniques in multi-media art enabled Nemo to create such imaginative canvases by bringing these vastly different elements together. "I want to be free to develop new techniques and investigate new subjects".
Nemo later enlisted in the Soviet Army where he served for two years. After completing his tour, his desire to become a professional artist was rediscovered. He started a business with a good friend restoring works of art and painting murals in churches. New found religious freedom in the post-Soviet era offered many opportunities for their business to flourish. His business enabled Nemo to work in cities and towns throughout the countryside thus sparking a desire for further travel.
Nemo now lives in Canada with his family, and considers Canada to be the gateway to the world. From his adopted home he is able to freely explore places all over the world. Since immigrating to Canada his travels have inspired him to create images from the impressionistic to the avant-garde and surrealistic genres. His excitement and discovery of new places can be seen in his depictions of scenic locales and international cityscapes. Nemo's distinctive cityscape series shows an innovative style combining photography, printing and painting. Through printing and subsequent collaging of his photographs and other found material, he then paints with acrylics, glazes and gels to create a somewhat surreal vision of each city, a dreamlike memory of time and space.
Nemo's work is widely collected, and is represented in galleries throughout Canada and the USA.