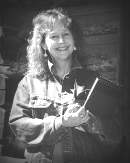 Artist, teacher and writer, Donna Jo Massie is an accomplished woman who has a number of unique talents. Born in Cherokee, North Carolina, Donna Jo was a teacher before immigrating to Alberta in 1976.
A professional full time painter since 1992, Donna Jo has combined her artistic talent with her love for teaching. Her well known workshops have been presented throughout Alberta and B.C., and she recently authored "A Rocky Mountain Sketchbook", a step-by-step guide to painting and drawing in the mountains.
Known for their rich colour and composition, her watercolours are vibrant reminders of the beauty of the Canadian Rockies. Donna Jo spends her summers hiking in the mountains, painting, photographing and sketching on location.