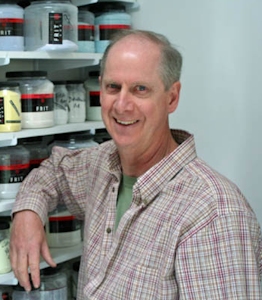 Bob Leatherbarrow, a Canadian living in the creative community of Salt Spring Island, B.C., has been making kilnformed glass for over 30 years. Born in Montreal, he grew up and was educated in Ontario where he earned graduate degrees in geology. While working as an exploration geologist in Calgary Bob became passionate about kilnformed glass. He is self taught and has used his scientific training to develop an understanding of how to melt and shape specially formulated glass powders and sheet glass into artistic bowls, vessels, and sculptures using an electric kiln.
ARTIST'S STATEMENT
My kiln-formed glass bowls, shields, sculptures, and roll-ups explore the subtle colours and delicate beauty of naturally occurring textures and encourage the viewer to ponder their origin.
Textures are a key part of our everyday visual landscape and through them we interpret how objects were formed, or how they evolved. Although textures may have common forms, their origin and evolution might be very different. For example, mud cracks in rocks and the wrinkled skin of the elderly look the same but are formed by entirely different processes. So by recognizing and interpreting textures we can understand and appreciate the stories of how objects and people evolve.
Stories have different interpretations depending on the timing and vantage points of our observations. I have tried to capture this sense of reference by presenting varying degrees of detail in my glass, from veining and blends of colours, to the use of delicate visual components. Thus, my pieces reveal one set of details when viewed from a distance and another set of details that are apparent only when viewed up close.
RECOGNITIONS
Bob's glass pieces have been collected nationally and internationally for over 25 years. His work has been included in more than 50 exhibitions, including group and two person gallery shows, juried national and international exhibitions, and a museum show. Articles about, and images of, his art are found in books, catalogues, and magazines.
EDUCATION
For almost 20 years Bob has taught masterclasses at major teaching studios in North America, Europe and Australia, on techniques he has developed and popularized. These signature techniques have been documented in four e-books and an ongoing series of articles in Glass Art Magazine. They are also the subject of instructional videos available at AAE Glass and workshops taught by Bullseye Glass Co., the preeminent supplier of kilnformed glass.