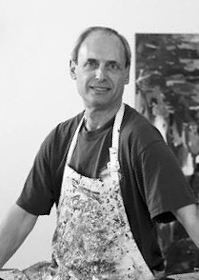 Born in Victoria, BC, Rick Bond grew up on James Island in the Strait of Georgia, just off Vancouver Island. It was wonderful experience for him growing up on a small island and spending time outdoors collecting firewood, digging for clams and fishing. It was these experiences that inspired his first piece of art work when he was in primary school - a crayon coloured landscape of a cloud hovering over a fishing boat moored in front of his home. In his teenage years his father was transferred and his family moved to Vancouver. There were adjustments to living in the city but he liked and did well in school. He took his post graduate training in pharmacy at the University of British Columbia.
It was after a visit to the Vancouver Art Gallery that his life took an artistic turn. The idea of creating art was powerful. He continued to be a pharmacist but art became a passionate hobby for him. It started out slowly and frustrated but he stuck with it. One day a gallery approached him and wanted to sell his work. Many of his paintings sold and the encouragement took him down the the path of becoming a professional artist. He took formal training through the Emily Carr Outreach program, Okanagan University College, Pearson College, the Federation of Canadian Artists and many professional workshops. Rick credits fellow Canadian artists Allesandra Bitelli and Brian M. Atyeo with giving him the encouragement to take chances and become his own painter. Part of building his career came through the acceptance into many juried shows where his work won many awards. He joined the Federation of Canadian Artists and achieved AFCA Signature Status in 1999 which he considers one of his great artistic accomplishments.
Rick captures a thought about a favourite subject and releases it onto the canvas with a bold splash of mosaic colour in a loose, simple and vibrant style. The subjects of choice for Rick include urban and rural landscapes often incorporating the people that embrace these landscapes. And he paints jazz musicians. He sees "the world as an empty canvas, full of possibilities, in which forms and stories are the manifestations of energy in constant movement and change." Trips to Europe, Australia, South East Asia, Central America and beyond have helped him evolve as a painter.
Rick paints with acrylic because it is a versatile medium and its fast drying qualities dovetails with his energetic and quick brush strokes. He can produce either strong and soft hues with defined shapes or create movement. His starting point is always a thought that he will take into his studio and work it into a drawing. He primes his canvas using warm colours and then starts blocking the canvas with abstract shapes. The last step is to develop the centre of interest cutting shapes into the design while keeping the painting in balance. He then makes some final adjustments to ensure that the focal points are eye-catching and the composition has an overall unity in colour, value and feeling.
Over the last twenty five years of his professional life, Rick has shown his work in public and private galleries across Canada including Victoria, Vancouver, Calgary, Regina, Winnipeg, Montreal and Toronto, giving him truly national visibility on the Canadian art scene. Adding to his credibility are numerous exhibitions with the Okanagan Artists League and the Federation of Canadian artists. Notable corporate commissions include works produced for Coca Cola, The Nordic World Cup, Royal Sun Alliance and W5. His work has been requested for national calendars, cards and advertising campaigns in Canada. Rick is a regular contributor to fundraising activities and received a record-breaking bid for a one of his donations at one of the largest annual fundraisers in the Okanagan.
Rick and his wife live in the North Okanagan Valley surrounded by majestic lakes, mountains and valleys. His feels a strong connection to both the land and his community and is very engaged in life both inside and outside the studio. When he is not painting Rick loves to travel, mentor fellow artists and jury art competitions. He is passionate explorer above all else which leaves the viewer with the wonderful shared experience of his travels and life journey which he so playfully and joyfully captures on canvas.