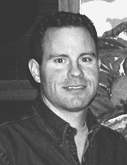 Cameron was born in Duncan, British Columbia, in 1971 and has lived in many areas of the province. From an early age, Cameron has had a passion for the beauty of the great outdoors. Having a father who painted as a hobby led him to begin painting seriously around the age of 17.
Formally trained at the Emily Carr College of Art and Capilano College, where he majored in commercial art, Cameron began researching many great artists including those of The Group of Seven. In particular, the works of Alfred J. Casson, Tom Thomson, and the German/American wildlife artist Carl Rungius inspired Cameron to eventually pursue a career in the fine arts.
Having traveled throughout much of western North America, Cameron has gathered reference material for his paintings by sketching on location. Images are captured first by crayon or pencil before completing the actual studio painting in oil. When time and climate allows, Cameron will paint small studies in oil, on site, whether he is hiking on mountain trails or fishing the various lakes and rivers.
In 1989, Cameron met Canadian artist K. C. Smith, who over the next ten years became a great teacher and friend. Keith taught Cameron the use of heavy impasto and bold color. He was also instrumental in teaching him how to simplify his work and "make each and every brush stroke count for many". Following in Keith's footsteps, he worked as a pack-horse guide in the Chilcotin Mountains. This experience gave Cameron many opportunities to develop his skills as an en plein air artist. Prior to Keith's death in 2000, Keith wrote a letter to Cameron asking him to "...carry on where I have left off in this wonderful world of art and creation."
To date Cameron has participated in many solo and group shows with private and corporate collectors from Europe, Australia, China and North America. Working as a full-time professional artist, Cameron continues to capture and explore the Canadian landscape with his powerful and vibrant oils.