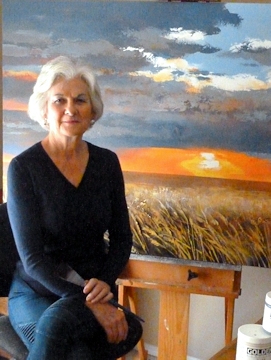 Kathryn Amisson uses a colorful palette to portray everything from the coast to the prairie and all the beauty in between. The impressionistic results speak of her understanding of the essence of the Canadian scene.
Born in Glenboro, Manitoba then raised from age 6 on British Columbia's west coast her love of the Canadian landscape took root early. She has spent over 40 years honing her skills as she interprets the many elements that make our country a favourite destination. Working in acrylic her art has evolved and continues to do so with each passing year.
"I care more about what emotions are stimulated when one views my paintings than the details of what one sees. It is about the light, the movement, the drama or the serenity that each piece exudes. I love colour and the power it has to lift the spirit and evoke a joyous atmosphere."
Spending many years replicating the scenes in front of her, Kathryn now takes pride in working more with shape, colour and texture and thus providing the viewer with their own chance to interpret what they are seeing.
Kathryn has been a great supporter of many charities over the span of her career; The David Foster Foundation, Crimestoppers and Big Brothers and Big Sisters to name a few. She worked tirelessly on several of the CNIB Eye Appeal events since its' beginning in 1998 and was Honorary Chair of the event in 2005 and 2017.
Kathryn has held numerous solo shows and participated in many group exhibitions in galleries in British Columbia and Alberta since 1979. Her work can be found in collections nationally and internationally.